Thanks for visiting.  After 10 years,  Keepsake Photography has made the transition to Sherry Smith Photography. It's been such a busy year with a new website design and I moved into a beautiful new studio space in downtown Brantford.  I'm so happy to have the opportunity to partner again with past clients and to welcome new ones with open arms.  Thanks for the amazing support over the past 10 years!
Timeless Weddings ~
I speak from the heart when I say I know how important your Wedding Day is.
You want it to be a perfect day…elegant and stylish, sharing your intimate celebration with all of your closest family and friends.  You want everyone to have a wonderful time and remember it forever.  You deserve to have it captured by a photographer who truly cares about what you want.   I'm the one.
I'll show you and your partner at your best, capturing priceless moments, emotional and real.  Sure to document all the beautiful details you worked so hard to plan.
You're timeline will be seamless and the flow of events relaxed….every moment documented with precision and care. And when it's all said and done, your beautiful photographs allow you to relive the entire day over again. Seeing the smiles, tears… happiness and love.
Whether I'm photographing you on your Wedding day or documenting you with your family… I feel privileged to give you the gift of an amazing memory that becomes a family heirloom.  The memory of a time when you were surrounded by the people that mean the most to you.
Take a peek at the video if you want to see me action…
Intimate Boudoir ~
Sexy, amazing and empowering.  Your Boudoir session will be all that and more.
You'll start by having a one-on-one call with me.  All of your questions will be answered, doubts diminished and nerves calmed.  Then, on your shoot day you'll pampered by my incredible stylists with professional Hair & Make-up, relax with a cocktail and enjoy….your Boudoir journey has begun.
You'll be styled and coached to perfection, every second of gorgeousness captured for that perfect presentation at the perfect moment.
Trust me.  …I'll deliver.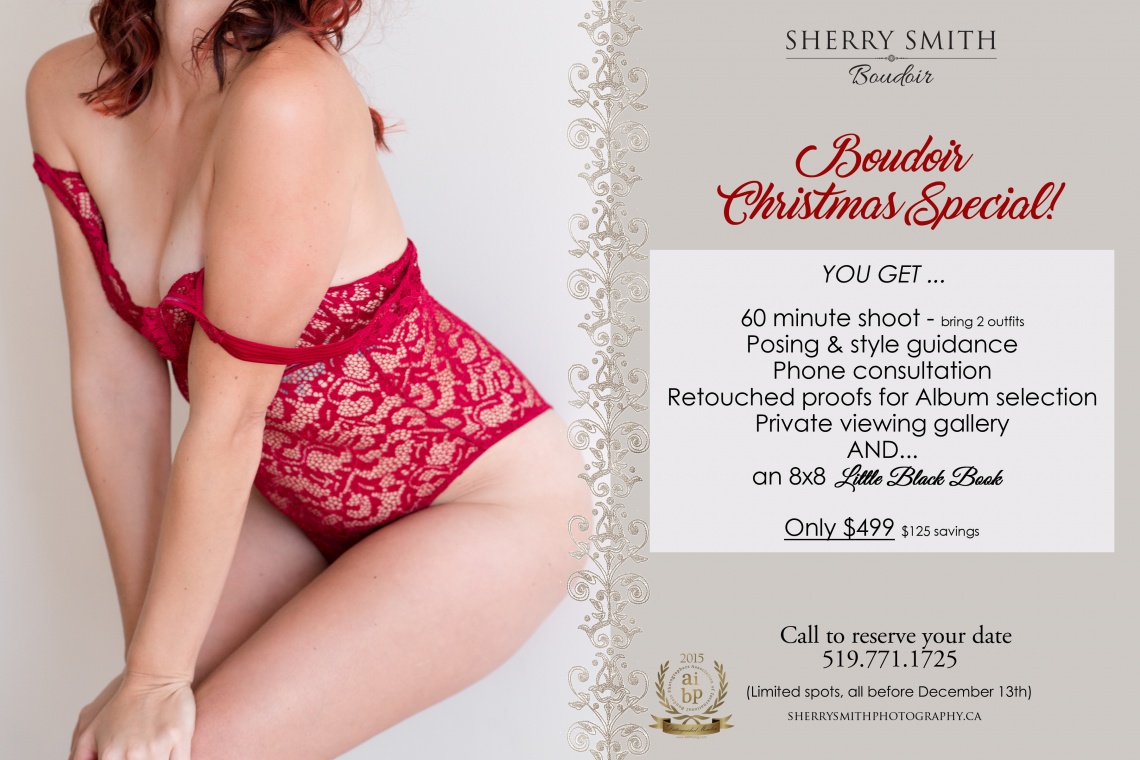 About Sherry
Sherry offers couples a fresh, modern and candid style of Wedding Photography. This boutique-style studio with over 10 years experience provides clients with amazing images and excellent customer service from beginning to end.  Trust in Sherry's experience and visual storytelling skills to capture the beauty and real moments of your Wedding.
Wedding Photography Packages include complimentary Engagement Photos and consultation. Centrally located in Brantford, Ontario and serve a wide area. Main photography locations include London, Hamilton, Simcoe, Port Dover, Kitchener, Waterloo, Cambridge, Toronto, Burlington, Oakville, Ancaster, Dundas, Niagara-on-the-Lake and Brantford. Travel charges may apply for outlying areas.
Sherry's been uniting with couples across Southern Ontario offering a unique, artistic style of Wedding and Boudoir Photography for over 10 years. Call for pricing for Wedding or sexy Boudoir Photography, Family photo sessions, Corporate Event Photography, Commercial Photography and Contemporary Portraits.